Tag:
matcha powder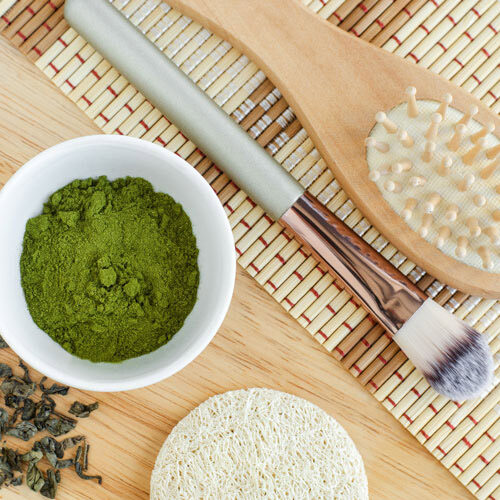 Green tea has many health benefits. Containing powerful antioxidants, it comes as no surprise that many of these involve our skin.
Many studies suggest that there are benefits to both drinking green tea and applying it topically. Making a matcha tea face mask is the ideal place to begin exploring the benefits of matcha skin care.
Is matcha green tea good for your skin?
Matcha green tea is good for your skin in so many ways. It contains a group of antioxidants known as catechins, more specifically a compound known as EGCG, that are directly involved in cell growth and repair. Green tea also has many anti-inflammatory and anti-microbial properties that can help with hormonal acne. as well as Vitamin B2 for maintaining collagen levels and Vitamin E to nourish and hydrate.
The benefits of a matcha face mask
Many of the benefits of green tea are triggered from within but there are specific benefits to using it directly on the skin.
Brighten dull skin
Help retain moisture and hydration
Fight wrinkles and firm sagging skin
Work against acne bacteria and reduce sebum production
Help puffy eyes
Clearing clogged pores
Make a matcha tea face mask
If you make your own matcha skin mask then you are in full control of the ingredients. Green tea is a big thing in the beauty world but the quality and quantity of active ingredients can vary. Many cosmetic brands contain artificial ingredients and preservatives to extend shelf life. Whilst these may be deemed skin safe what you put on your body is as important as what you put in your body. Thankfully all of our matcha green tea powder is 100% certified organic. 
When creating your own DIY beauty products it is just as important to do a patch test. Apply a small amount to the skin on the inside of your elbow to make sure your skin is not sensitive to the ingredients you are using.
The recipe below is for a honey and matcha face mask, because why not harness the healing power of honey too. You could also use natural yoghurt or olive oil. Or just make a paste with plain old water. Whatever suits you.
Recipe for honey and matcha face mask
This makes enough for one faceful, but you could make up more and store it in an airtight container in a cool dark place.
1 tsp matcha green tea powder
1 tbsp raw honey
Mix the ingredients together well.
Apply all over the face, avoiding the eyes but covering the skin around the eyes.
Leave on for 10 to 15 minutes and remove with a warm wet cloth.
Use once a week.
We stock a variety of grades of  high quality organic matcha powder. Our green tea powder is also available to buy in bulk online at wholesale prices.
---
This article was reproduced on this site only with permission from operafoods.com.au the "Gourmet Online Wholesale Grocer". See original article:- Green Means Glow With a Matcha Tea Face Mask