Tag:
matcha recipes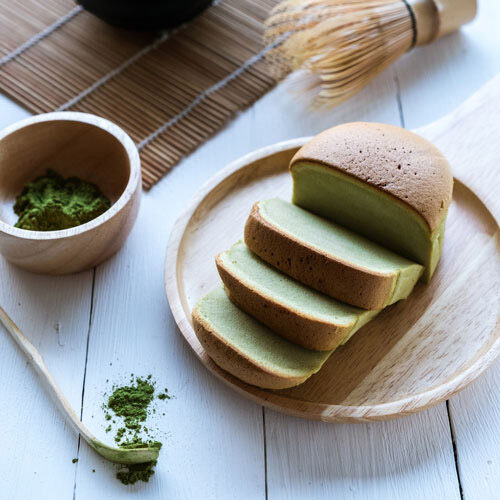 A bit of a baking phenomenon and yet another hit from the ever popular arena of Japanese food, is the Japanese cotton cheesecake. AKA jiggly cake. And yes, it reminds us of a certain Pokemon too…
What is Japanese cheesecake?
Japanese cotton cheesecake is perhaps better known as Jiggly cake. If you have ever seen those YouTube videos of Japanese bakeries, then you will know why. If you haven't, then we recommend a look as it is a phenomenon best described in motion.
This half sponge/half cheesecake hybrid is made with a mixture of egg yolks, butter, and cream cheese, folded through whipped egg whites and stabilised with cornstarch. At first glance the texture is more superlight sponge than cheesecake, but the eating proves otherwise with the sour flavour notes and oddly creamy texture.
Interestingly, it would seem that the term Jiggly cake describes two kinds of Japanese cakes. The first (and incidentally the star of THOSE videos) is actually a sponge cake known as castella. Said to have been taken to Japan by the Portuguese in the 16th century, castella is a speciality of Nagasaki that CONTAINS NO CHEESE.
The second, the one that does contain cheese and thereby deserves the title of cheesecake is a more recent invention.
Both versions do however jiggle admirably.
What does Japanese cheesecake taste like?
As much about texture as taste, Japanese souffle cheesecake melts in your mouth and is as light as a cloud. Somewhere between spongecake and souffle, it isn't overly sweet or cloying but you do a get a pleasing lactic tang from the cream cheese.
Is Japanese cheesecake gluten-free?
You could experiment with just using cornflour to make your cheesecake gluten-free, but most recipes also incorporate a little wheat flour to help stabilise the mix.
How to make a Japanese cheesecake
The process is not difficult yet it should not be rushed. It is after all Japanese and relies on focus, precision and due care. It is a little fiddly but the actual bake is quite forgiving so it is difficult to overcook. Do not be disheartened if it shrinks a bit on cooling, especially the first few times.
Cream cheese and butter need to be at room temperature and spreadably soft so they are easy to blend. Egg whites are easier to whip when at room temperature, but the eggs themselves are easier to separate when cold.
You want a cream cheese that is creamy and soft, yet with a good old-fashioned tang.
Matcha green tea Japanese cheesecake recipe
Matcha green tea is the perfect flavouring for a cake like this, with its subtle herbal tones and slightly sour sweetness. Read about the different grades of matcha green tea.
You will need an 8 inch round cake tin.
225g cream cheese, really soft
60g butter, really soft
6 egg yolks
60g sugar
70g flour
3 tbsp cornstarch
2 tsp matcha powder
60ml milk
1 tsp vanilla
1/4 tsp salt
For the meringue
6 egg whites
1/4 tsp cream of tartar
60g sugar
Icing sugar – for dusting
Preheat the oven to 200C.
Grease and line your cake tin.
In a mixing bowl, beat together the butter and cream cheese until smooth.
Beat in the egg yolks and the sugar.
Beat in the flour, cornstarch, and matcha powder.
Add the salt, milk, and vanilla.
In a separate mixing bowl, whisk the egg whites with the cream of tartar.
Once they are fluffy, gradually whisk in the sugar until the mixture is smooth, glossy and forms soft peaks. This means that when you pull some of the mix up with a spoon it stands and keeps its shape, but the peaks bend softly at the top.
Using a large metal spoon carefully fold the egg whites through the cream cheese mix until fully incorporated.
Pour the batter into your prepared tin.
Place the tin in a baking tray, and fill with cold water to reach a third of the way up the cake tin.
Bake for 15 mins at 200C. Turn the oven down to 140C and bake for a further 30 minutes.
Turn the oven off and leave for a further 30 minutes.
The test for doneness is the same as a sponge cake. It will spring back when you press the top, and a skewer will come out clean. It is quite forgiving so rather over bake than under.
After it has sat in the cooling oven for 30 minutes it will be cool enough to tip out onto your hand and then onto a plate.
Leave to cool completely before dusting with icing sugar and slicing to serve.
Does Japanese cheesecake need to be refrigerated?
Japanese souffle cheesecake can be served whilst still warm from the oven, and will keep for an afternoon out on the kitchen counter at room temperature. After that you will need to keep it in the fridge where it will sit quite happily for up to 5 days. Do keep it covered though so it does not absorb all the flavours of the fridge.
Can you freeze Japanese cotton cheesecake?
You can freeze it too. Either in individual slices or as the whole thing. Wrap in cling film, and then in foil, and freeze for up to 3 months.
Don't forget to stock up on organic matcha tea online and take advantage of our wholesale prices.
---
This article was reproduced on this site with permission from operafoods.com.au the "Bulk Suppliers of Organic Asian Groceries".
See original article:- Japanese Cotton Cheesecake with Matcha Green Tea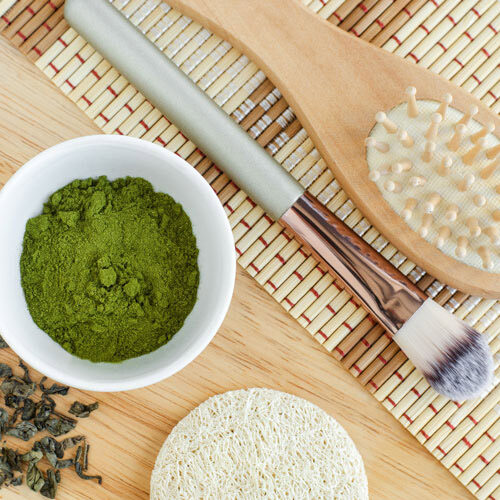 Green tea has many health benefits. Containing powerful antioxidants, it comes as no surprise that many of these involve our skin.
Many studies suggest that there are benefits to both drinking green tea and applying it topically. Making a matcha tea face mask is the ideal place to begin exploring the benefits of matcha skin care.
Is matcha green tea good for your skin?
Matcha green tea is good for your skin in so many ways. It contains a group of antioxidants known as catechins, more specifically a compound known as EGCG, that are directly involved in cell growth and repair. Green tea also has many anti-inflammatory and anti-microbial properties that can help with hormonal acne. as well as Vitamin B2 for maintaining collagen levels and Vitamin E to nourish and hydrate.
The benefits of a matcha face mask
Many of the benefits of green tea are triggered from within but there are specific benefits to using it directly on the skin.
Brighten dull skin
Help retain moisture and hydration
Fight wrinkles and firm sagging skin
Work against acne bacteria and reduce sebum production
Help puffy eyes
Clearing clogged pores
Make a matcha tea face mask
If you make your own matcha skin mask then you are in full control of the ingredients. Green tea is a big thing in the beauty world but the quality and quantity of active ingredients can vary. Many cosmetic brands contain artificial ingredients and preservatives to extend shelf life. Whilst these may be deemed skin safe what you put on your body is as important as what you put in your body. Thankfully all of our matcha green tea powder is 100% certified organic. 
When creating your own DIY beauty products it is just as important to do a patch test. Apply a small amount to the skin on the inside of your elbow to make sure your skin is not sensitive to the ingredients you are using.
The recipe below is for a honey and matcha face mask, because why not harness the healing power of honey too. You could also use natural yoghurt or olive oil. Or just make a paste with plain old water. Whatever suits you.
Recipe for honey and matcha face mask
This makes enough for one faceful, but you could make up more and store it in an airtight container in a cool dark place.
1 tsp matcha green tea powder
1 tbsp raw honey
Mix the ingredients together well.
Apply all over the face, avoiding the eyes but covering the skin around the eyes.
Leave on for 10 to 15 minutes and remove with a warm wet cloth.
Use once a week.
We stock a variety of grades of  high quality organic matcha powder. Our green tea powder is also available to buy in bulk online at wholesale prices.
---
This article was reproduced on this site only with permission from operafoods.com.au the "Gourmet Online Wholesale Grocer". See original article:- Green Means Glow With a Matcha Tea Face Mask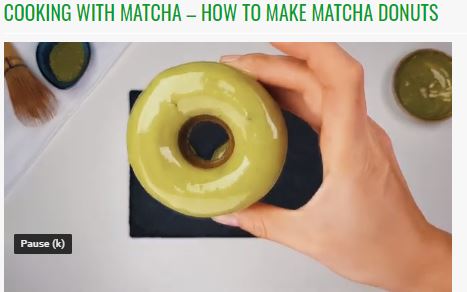 This video shows the recipe and the how-to, in easy steps, to make this Matcha recipe for Match donuts with matcha icing