Tag:
Matcha
Matcha, with its bright green colour and sweet herbal flavour, is widely used as an ingredient beyond just tea. But what is matcha powder, exactly?
What is matcha powder?
Matcha is a traditional ceremonial tea from Japan. Made with green tea which is ground into a fine powder, it is as unique as the famous regions in which it is grown. Harvested several times over the course of a single growing season, it comes in a variety of different grades, all suited for different purposes.
How is matcha powder made?
The tea used to make matcha is always grown in the shade. With a season that begins in spring, and ends in late autumn, the highest grade powder comes from the first harvest or first flush. As the young shoots develop, the plants are kept under shade. This reduces the rate of photosynthesis, concentrating the chlorophyll that gives matcha its bright green colour.
These first leaves grow slowly over the colder months, allowing time for flavour to develop. Lower grade leaves harvested later in the season grow more quickly in the warmer weather and are less flavourful.
The young tender leaves of the first flush are carefully chosen and picked by hand. They are then steamed immediately after harvest to keep the vibrant green colour of the chlorophyll. Unlike green tea, which after steaming is rolled and left to dry, the green leaves for matcha are quickly air dried in a machine.
Once dry, the stems and veins of the leaves are carefully removed, leaving only the tender green leaf for the final product. This is then stoneground, in a granite stone mill. The aim is to create as little friction (and therefore heat) as possible. In this way, all of the delicate flavour is retained.
The different grades of matcha powder
Ceremonial grade matcha powder is the highest grade there is. This is used for the Japanese tea ceremony and is purely for whisking in water.
The best ceremonial grade matcha powder is first flush, and will be labelled as such. It should be rich, aromatic, and sweet, and not at all bitter or astringent. It can come under a variety of names; ours is labelled as supreme matcha.
Second flush tea can also be ceremonial grade but the flavour will be slightly less delicate than the first flush. It is still good for whisking with water, but will also work well in your matcha latte. We label ours as imperial grade matcha.
Culinary grade matcha powder is made from the third, or even the fourth, flush. The tea may not have been harvested by hand, and it is likely to be more coarsely ground than ceremonial grade. It is not inferior, just blended to stand up to other ingredients. It is more bitter and astringent than the higher grades, and possibly less green, but is ideal in baking or cooking where the subtle nuances might be lost.
Find out why matcha has more nutrients than green tea.
Discover our range of quality matcha powder at great value prices.
---
This article was reproduced on this site with permission from operafoods.com.au the "Matcha Distributors".
See original article:- What is matcha powder?
Most of us are by now familiar with green tea powder but there is more to Japanese green tea than just matcha.
Like most things in Japan, tea growing is done with careful consideration. An art form that honours tradition and spares no attention to detail.
Types of Japanese green tea
Whilst there are many types of Japanese green tea, they can be sorted into two main categories. Tea that is grown in the shade and tea that is grown in full sun. Matcha may be a powder, but it begins life as all tea does; the green leaves of the tea plant.
Matcha and gyokuro green teas
Matcha belongs to the group of teas that are grown in the shade. As we saw in our article on the different grades of matcha, some green tea in Japan is grown in the shade for around the last month before the harvest. This reduces the rate of photosynthesis, concentrating chlorophyll and increasing levels of theanine. A process that results in sweet mellow flavours, with less bitter undertones, and deep green colour.
Both matcha and gyokuro green teas are grown in this way. After processing, matcha ends up as a fine green powder whereas gyokuro is a leaf tea. The leaves are steamed and dried, then kneaded before sorting. Kneading breaks down the fibres so that flavour and nutrients are more readily extracted during brewing. Gyokuro karigane is a less expensive version of the tea made from the stems rather than the leaves.
Sencha green tea
Other teas are grown in full sunlight right up until harvest. This results in a concentration of catechins rather than theanine and these give tea its characteristic bitter flavour. With less chlorophyll than shade grown tea, the leaves are a golden green colour.
Sencha and genmaicha teas are both grown in full sunlight. The most popular green leaf tea in Japan, sencha is a bright energising everyday tea. It has a mellow and refreshing flavour with a balanced bitterness. There are many different types of sencha available.
Genmaicha is a blend of Japanese green tea made from sencha leaves mixed with toasted brown rice. Originally a cost effective way of making expensive green tea leaves go further, genmaicha is prized for its rich roasted flavour reminiscent of coffee that makes it ideal at breakfast time.
Hojicha is sencha that has been roasted. It is more similar to black tea but has a fresher flavour profile.
The difference between black and green tea
Tea all looks the same when it is harvested. It is the processing that makes the difference between green and black tea.
Once harvested, tea leaves destined to be black tea are left to wither and ferment. The process of fermentation allows the leaves to oxidise, changing the colour from green to brown then black. But it is not just the colour that changes. The deep earthy flavour of black tea is all down to careful control of this oxidation process.
On the other hand, leaves for green tea are exposed to heat as soon as they are picked. Usually steaming, this process halts oxidation and results in not only the green colour but the fresh grassy herbal tones of green tea.
Is matcha different from green tea?
Matcha is just one of many varieties of Japanese green tea, yet it is unique in that it takes the form of a powder. The entire leaf is processed and ground, with the resulting powder brewed and drunk. This is different from most teas, where the leaf is brewed and then thrown away.
Does Japanese green tea contain caffeine?
Japanese green teas are often higher in caffeine due to the gentle steaming process. The caffeine in tea is bound to antioxidants which slow the rate of absorption. This makes for a more gradual caffeine hit with none of the jitters associated with coffee. Gyokuro and matcha, the shade grown teas, have the most caffeine. Hojicha has very little caffeine, whilst sencha comes somewhere in between.
Making Japanese green tea
The subtle nuances of Japanese green tea can be lost if not brewed with consideration. Temperature and brew time are both of importance.
To brew sencha tea, boil water and let it stand for a few minutes to come down to 80C. Brew for 1 minute before lifting out the leaves.
Matcha tea is whisked into water of between 70 and 85C.
Genmaicha tea is brewed in freshly boiled water for 1 minute.
Hojicha tea is brewed in freshly boiled water for 30 seconds.
Health benefits matcha vs green tea
Matcha and other varieties of green tea share potent antioxidant benefits but it is thought that matcha is more beneficial to health as the whole leaf is ingested.
Why not explore our range of matcha green tea or buy online from our gourmet grocery store?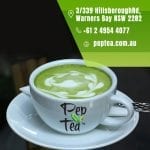 Matcha tea is also a type of green tea in which the young tea leaves are ground down into a bright green powder. In a normal green tea, you are just getting a part of the nutrients as the rest are thrown away but with Matcha tea, you're drinking the whole tea leaves.
You can drink Matcha tea with hot water as well as cold water and ice because with Matcha tea you can experience the same benefits in both the ways.
You can make a Hot Matcha Tea when you are drinking tea with a casual breakfast. The combination to make your perfect Matcha tea, you should keep the ratio as one teaspoon of our Peptea brand organic Matcha powder and six ounces of water. Boil the water first and then let it cool down a bit. Take one teaspoon of powder and mix it with two ounces of water first, then add the rest of the water into it. You can also add sweeteners to taste and be sure to stir the cup once the powder settles down at the bottom.
If you feel like drinking tea at any time of the day you can go for the Iced Matcha Tea. It is easier to make than the Hot Matcha Tea. The combination to make your perfect Iced Matcha tea, take one-half teaspoon of our Pep tea brand organic Matcha powder and mix it with few ounces of water to create a smooth paste. Add about 10-12 ounces of water, and sugar. Keep it in direct sunlight for about 15-20 minutes and add Ice and sweetener to enjoy your delicious cup of Iced Matcha Tea.