Matcha Recipes
now browsing by category - Put Some Pep In Your Step
Food preparation recipes using Matcha Tea Powder to increase your Antioxidant intake and build your immune system.
The word Matcha has its origin from Japan. In Japanese "Cha" means tea, and "Ma" means powder. Hence the unique traditional style of making tea in Japan was called Matcha. In this technique, the tea leaves are ground into a fine powder.  Over the years the Japanese perfected the art of ceremonial Matcha tea making.
All our Matcha powder products are authentic Japanese certified and organic in nature. The Matcha Powder of Peptea is grown by the ministry of agriculture, Japan in the southern regions of Japan like Kyoto Mie and Aichi.
Our Matcha products are one of the most powerful natural superfoods available in Australia. After the Matcha leaves are grounded into fine powder they are stored away from sunlight and oxygen to preserve its bright green color and antioxidant properties.
Matcha Tea is a powerhouse of antioxidant, order Peptea's Matcha from matcha powder wholesale distributor Opera Foods, and enjoy the amazing benefits by drinking a cup every day.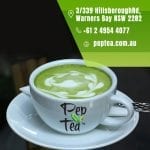 Matcha tea is also a type of green tea in which the young tea leaves are ground down into a bright green powder. In a normal green tea, you are just getting a part of the nutrients as the rest are thrown away but with Matcha tea, you're drinking the whole tea leaves.
You can drink Matcha tea with hot water as well as cold water and ice because with Matcha tea you can experience the same benefits in both the ways.
You can make a Hot Matcha Tea when you are drinking tea with a casual breakfast. The combination to make your perfect Matcha tea, you should keep the ratio as one teaspoon of our Peptea brand organic Matcha powder and six ounces of water. Boil the water first and then let it cool down a bit. Take one teaspoon of powder and mix it with two ounces of water first, then add the rest of the water into it. You can also add sweeteners to taste and be sure to stir the cup once the powder settles down at the bottom.
If you feel like drinking tea at any time of the day you can go for the Iced Matcha Tea. It is easier to make than the Hot Matcha Tea. The combination to make your perfect Iced Matcha tea, take one-half teaspoon of our Pep tea brand organic Matcha powder and mix it with few ounces of water to create a smooth paste. Add about 10-12 ounces of water, and sugar. Keep it in direct sunlight for about 15-20 minutes and add Ice and sweetener to enjoy your delicious cup of Iced Matcha Tea.
Here is what a new customer had to say about Pep Tea's Imperial Matcha tea powder today.
By: Brenton on 13 February 2017
"The matcha is exquisite. The best matcha I have had, the Imperial is very refined, with a fine, light but clear green tea flavour with a smooth profile whose exquisitely subtle taste curve calls out for another sip.
My favorite tipple, in the heat of the Northern Rivers' summer, is as an Iced Match Latte, made with our home-made almond milk, a touch of honey and vanilla, cinnamon and nutmeg – shaken in a cocktail shaker with lots of ice. Purists might grimace, or even scowl and howl, but our daily morning tea ceremony is sacred to us – and refreshing, uplifting and stimulating!
Thanks Michele for a great product – and your very ethical and sincere business attitude.
Warm Regards"
BP, Chinderah NSW
Australian Importer Pep Tea offers a mid grade #Organic #Matcha Tea for cooking in a 1kg bag with zipper reseal for freshness. See www.peptea.com.au for recipes for cooking with Matcha powdered tea.
Here is a nice video presentation of a delicious Green tea Matcha Latte

Iced Matcha Tea – Quick & Easy
2 Teaspoons of ceremonial quality Matcha
Ice cubes
Sprig of Mint
Water of choice
a Sliced Lime
Alternatives
Add Lime or ginger  for a tart finish
Add agave nectar,  honey or brewed stevia for sweetness
Add Matcha to a jug of water and stir
Pour over ice into a chilled glass add a sprig of Mint and a slice of lime. Enjoy immediately,
(Stir as you go as the Match will separate from the water and drop to the bottom if left standing)
Matcha infused Foods with build your immune system. This recipe make about 24 Muffins
Ingredients
  1.5 cups self-rising flour
 1.5 cups all-purpose flour
1 cup unsalted butter, softened
1.5 cups sugar
4 large eggs, at room temperature
1 cup milk
1.5 tablespoons of Matcha
1 teaspoon vanilla extract
Directions
Line 24 spaces in your muffin mold tins with cupcake papers.
Take a small bowl, add the flour & self Raising flour, and Matcha then stir to combine.
Take a large mixing bowl and cream the butter until smooth.
Then gradually add sugar and beat for 2-3 minutes till fluffy and smooth
Next Add the eggs,  beating the mix after each addition.
The gradually add dry ingredients in 4 stages, alternating with the vanilla and milk
After each stage, beat until the ingredients are smooth taking care not to over-mix.
Next fill each of the cupcake liners to about three quarters full with the batter.
Then bake in a pre warmed 350° oven for around 20 minutes.
Let the cupcakes cool in the mold for 20 mins.  then place on a wire rack for icing.
Matcha Cream Cheese Icing
600g Sifted icing sugar, d
100g Unsalted Butter,
250g Cream Cheese
1 tablespoon of Matcha Green Tea Powder
1 Lime
(Use the Butter at room temperatue but the cream cheese can be cold out of the fridge)
Combine the icing sugar and butter with the Matcha powder and a tablespoon of lime zest using an electric mixer set to to medium until well mixed then add the cream cheese and beat until it is completely mixed in. Next Turn the mixer up to medium-high speed. Continue beating until the icing is light and fluffy. If you over beat, it will turn runny.