Author:
Anna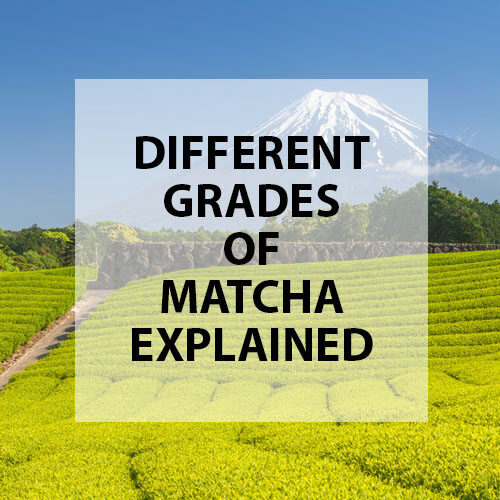 All tea begins with the plant Camellia Sinensis, whether it is green, white or black. Green when harvested, if not steamed within hours the leaves will oxidise and turn black. This is the black tea we are all used to in our daily cuppa.
But matcha goes beyond simple green tea. An art form perfected by the Japanese over thousands of years, it has a unique method of growing, harvesting, and production.
There are many different grades of matcha powder, which we will explain in this article.
What is matcha powder?
Matcha powder is a traditional green tea powder from Japan. Like fine wine or a good cheese, matcha is a product of its terroir. This is the environment in which it is produced and each element such as the soil and the climate will make a difference to the final flavour. There are various regions in Japan that are renowned for the quality of their matcha, just as there are areas of France renowned for producing excellent wine.
How is matcha powder made?
Tea for high grade matcha is grown in the shade, on specialist plantations. April is the beginning of the growing season, and there may be up to four harvests in a season. The first harvest, known also as a flush, is considered to produce the highest grade tea. Once the first green shoots appear, the tea plants are kept under gradually increasing shade in order to reduce the rate of photosynthesis. This concentrates the green pigment chlorophyll and increases theamine, the amino acid that gives matcha tea its soft sweet flavour.
The first flush begins in May. The young leaves are chosen and picked by hand. In any type of tea growing, this first harvest will have more nuance of flavour as it grows more slowly in the cooler weather. As the weather gets warmer over the season, the rate of growth speeds up and flavour changes. The green leaves are steamed as soon after harvest as possible to retain the vibrant green of the chlorophyll. At this stage, green tea would be rolled and left to dry but the delicate leaves for matcha are air-dried in a machine.
Finally the leaves are picked clean of stem and veins before grinding. Matcha tea is ground in a granite stone mill. It turns with a considered slowness designed to create as little friction as possible so as to retain all the delicate flavour notes of the final matcha powder.
There may be up to four harvests in a season, which ends in late autumn.
What does matcha taste like?
Matcha tea should be rich, aromatic and sweet with a grassy, vegetal taste from the chlorophyll. Higher grade tea will be less astringent than the lower grades, with minimal bitterness.
How to tell if matcha is good quality
There is a difference between high quality matcha powder and high grade matcha powder. The different grades of matcha are blended for different purposes, so culinary grade matcha powder from a reputable source is still a high quality product. Matcha, by definition is an artisan product of time and tradition. Yet, some will be of a higher quality than others.
A good quality ceremonial grade matcha powder will be…
Soluble, with a texture like fine baby powder.
Smooth and sweet with no astringency.
Grown and produced in Japan.
A vibrant green colour, yet this is not always a reliable benchmark.
How to choose matcha
Firstly make sure that your matcha is grown and produced in Japan. There is no labelling convention as such, and you could well be buying green tea powder which is not the same thing.
Buy according to your budget and what you need it for. First flush ceremonial grade matcha powder is best used for whisking in water. Slightly less expensive second flush ceremonial grade matcha powder can be whisked in water but will be slightly more bitter. You could use this in lattes and smoothies too as the more robust flavours blend well with milk. Keep the culinary grade matcha powder for cooking; the flavours are designed well to go with other ingredients.
Ceremonial grade matcha powder should be silky soft. Like baby powder. Lower grades will be less finely ground.
Different grades of matcha will have different levels of nutrients. The first flush matcha powder will have the most nutritional benefit, yet the lower grades are still all powerful superfoods.
What is ceremonial grade matcha?
Ceremonial grade matcha powder is the highest grade of  matcha, blended purely for whisking in water and drinking as is. Used for centuries by monks and emperors to aid meditation, this is the stuff of the tea ceremony. The flavours are subtle and complex, delicate notes to be savoured.
Not all ceremonial grade matcha powder is first flush, but if it is it will be labelled as such. Our supreme matcha powder is first flush organic matcha powder.
Our imperial grade matcha is ceremonial grade second harvest. Slightly less delicate, it can be used for whisking or in your morning matcha latte.
Culinary grade matcha powder
Culinary grade matcha powder is blended to stand up to other ingredients. So that the flavours can come through ingredients such as fats, or cacao, and not be lost. Often used in lattes and smoothies too, this grade of matcha powder is less smooth and has more bitter and astringent tones. If you had a matcha latte or tea that you did not like, it may have been made with a lower grade of culinary grade matcha powder.
This is made from the the third or fourth flush (the later harvests) or a mix of both. The leaves are often picked mechanically and the grind can be coarser so it requires more whisking to dissolve.
There are several categories of culinary grade matcha powder.
Premium grade matcha powder is very fine and blends well. It is perfect for milky drinks as well as baking and cooking.
Cafe grade is less delicate with a strong flavour.
Ingredient grade is produced to match well with milk and dairy. It is stronger and thicker.
Kitchen grade is the economy blend of matcha powder. It is less delicate than the rest, and more astringent.
Culinary grade matcha powder is not an inferior product. It is simply a question of using it for the right purpose. This is what you will use to make your matcha brownies or matcha ice cream. It is the perfect matcha powder for baking.
We hope that has helped begin to explain a little about the different grades of matcha powder. Take a look at all of our organic matcha powder, or head over to the online store for more wholesale organic food.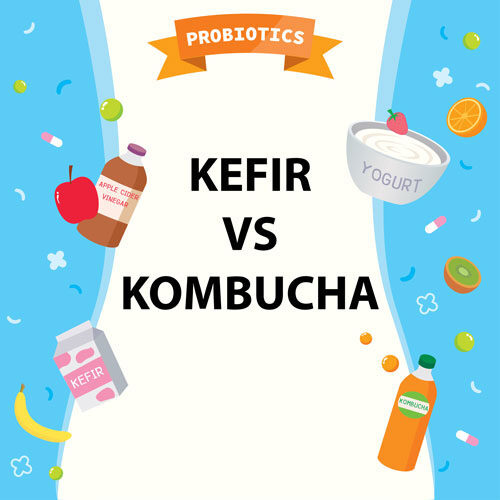 Kefir and kombucha are both traditional fermented drinks. Said to have some impressive health benefits, they are both enjoying mainstream popularity right now. Kefir is dairy based, although non-dairy versions do exist, whilst kombucha is made from sweet black or green tea.
But in the battle of kefir vs kombucha, which one is a winner for you?
What is the difference between kefir and kombucha?
Kombucha is low calorie and contains no protein, fat or fibre. Analysis has shown some kombucha to contain vitamins A, B and C plus minerals zinc, copper, iron and manganese. Dairy kefir is much higher in calories yet has a full range of nutrients with fat, protein, carbs and fibre. It also contains vitamins A and D, plus calcium and sodium.
Although kombucha and kefir are both fermented drinks, they are very different. Not only do they look and taste different, the starter and the fermentation process are different too. Kombucha is fermented using a scoby, which is a symbiotic colony of bacteria and yeast, held together by a network of sugars. It is added to sweetened tea and the mixture fermented for up to 30 days. Kefir grains are also a colony of bacteria and yeast held in sugars, but they form small translucent 'grains' rather than the mushroom like mass of the scoby. Added to milk, fruit juice, water or coconut water, they are only cultured for 1 or 2 days.
Kombucha is thin, like a soft drink, with a vinegar like smell. It tastes slightly sweet and tangy, and is fizzy. The flavour varies according to fermentation time. Also, the tea used, and any additional flavours.
Kefir is thicker, and tastes like the cultured milk that it is. Think lactic acid flavour like creme fraiche, or a good brioche. It can be flavoured with additives such as fruit, flavour extracts, or honey. The longer the fermentation, the more pronounced the flavour.
Both of these fermented drinks can undergo a second fermentation to develop flavour.
There are two types of kefir – dairy/milk kefir and water kefir. Milk kefir can be dairy free or vegan, made with coconut milk or nut milks.
What is water kefir?
As the name suggests, water kefir is made from sweetened water. It is also made from coconut water or fruit juice. Made using a different starter culture that contains no milk, water kefir can be overly sweet and not particularly pleasant to taste. For this reason it is usually flavoured with additional fruit, sweeteners or herbs. It does, however, have less of a fermentation flavour than dairy kefir or kombucha.
Kombucha contains caffeine (from the tea) and a negligible percentage of alcohol. Watch out for added sugar in many commercial products. But not ours! We stock only sugar-free kombucha.
Kefir vs kombucha probiotics
The probiotic content of kefir and kombucha are slightly different. Both are rich in probiotics but kefir contains lactic acid bacteria. Kombucha contains lactic acid and acetic acid bacteria. With more lactic acid bacteria, kefir acts like a probiotic supplement. Kombucha, on the other hand, is more of a digestive aid. Between them they contain a wide variety of beneficial bacteria.
Both kefir and kombucha have shown anti-microbial and antioxidant properties.
Kefir is anti-inflammatory. It may lower cholesterol as well as stimulate the immune system. Kombucha may promote fat loss, improve blood sugar control, and offer protection for the liver. Both should be introduced to the diet slowly to counteract any negative effects such as bloating or intestinal discomfort.
Both kefir and kombucha are understood to have beneficial effects on overall gut health and diversification of the gut microbiome.
Is kefir or kombucha better?
Whether you choose kefir or kombucha is largely a matter of preference. Eating and drinking a range of fermented foods can offer greater diversity in beneficial bacteria so try to include as many as you can. Sourdough bread, kimchi, sauerkraut, yoghurt and pickles are all good.
Can you drink kefir and kombucha together?
Whilst people do actually mix kefir and kombucha together, you can simply include both in your diet and enjoy whichever takes your fancy or you tolerate best. Both are excellent for hydration too.  In the matter of kefir vs kombucha there really is no comparison as they are completely different things. A bit like comparing mayo and ketchup. Chalk and cheese.
How many of our organic kombucha flavours have you tried? Don't forget to take advantage of wholesale prices when you buy bulk food online from our one stop shop.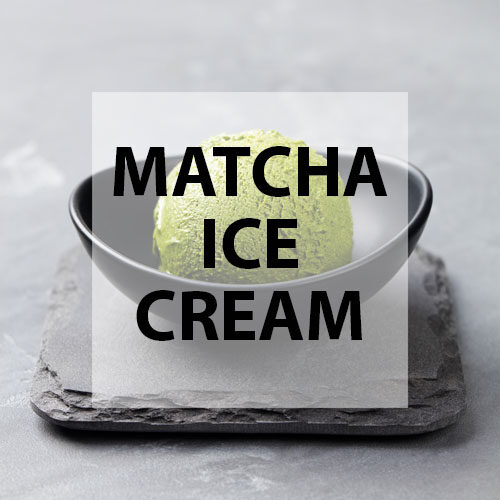 Try our matcha ice cream recipes; four different ways.
Using matcha in recipes doesn't just boost the nutrient profile of a dish. As an ingredient in its own right it lends an air of sophistication and, despite being popular for a few years now, comes with supercool cutting edge credentials.
We recommend using premium grade matcha powder for all culinary uses.
What does matcha ice cream taste like?
Clearly the flavour depends on your ingredients, but the basic flavour profile is sweet and grassy. Not too creamy and not too sweet, good matcha ice cream feels smooth in the mouth and has a slightly bitter finish.With its herbal notes and refreshing finish it is the perfect end to a meal, or a cooling treat on a hot day.
How to make matcha ice cream
There are many ways to make matcha ice cream, from classic style in an ice cream machine to vegan cheats with frozen banana. Our matcha ice cream recipes make it easy, whether you are short on time or just don't do dairy.
Classic matcha ice cream recipe
Classic ice cream uses eggs and involves using an ice cream machine. You can make it without a machine by taking it out of the freezer and stirring it every hour to break up the ice crystals. A tablespoon of liquid glucose in the custard mix helps to create a softer ice cream too.
1 1/4 cups double cream
1 1/4 cups milk
1/2 cup sugar
4 egg yolks
2 tbsp matcha powder
Whisk together eggs and sugar until thick and pale.
Beat in the matcha powder.
Heat the milk and cream together in a saucepan over a medium heat, until not quite boiling.
Whisk the warm mixture into the matcha egg mix.
Return to the pan and stir continuously over a low heat until the mixture coats the back of the spoon. About 10 minutes.
Churn according to your machine directions or freeze as above.
No-churn matcha ice cream
This recipe has only 3 ingredients, and does not contain eggs, yet is as close as it gets to the real deal.
1.5 cups double cream
2/3 cup condensed milk
2 tbsp matcha powder
Sprinkle the matcha powder over the double cream.
Whisk until it forms soft peaks.
Carefully fold in the condensed milk.
Pour into a container and freeze until set.
Vegan matcha ice cream
There are numerous ways to make vegan nice cream but the quickest is to use frozen banana. It won't have the same taste as its dairy counterpart, but as frozen treats go it is still pretty cool. You can use any non-dairy milk, or for a thicker sweeter ice cream use coconut cream. It will be coconutty, but the flavours go quite well with the acidic grassy tones of matcha. We use a relatively large amount of matcha powder to offset the bolder flavours of the other ingredients.
3 bananas, frozen in chunks
1/3 cup almond milk
1 tbsp matcha powder
Let the banana defrost slightly so it is easier to blend.
Blitz the ingredients together in a food processor or high powered blender.
Serve immediately.
Really easy matcha ice cream
You can make a really simple matcha ice cream with vanilla ice cream. Use 1 tsp of matcha powder for each 120g serving of ice cream. Allow the vanilla ice cream to soften and beat in the matcha powder. Either refreeze until required, or eat immediately soft serve style.
Take a look at our ceremonial grade matcha online, or head over to our wholesale organic food store for more gourmet grocery ideas.