Tag:
matcha powder wholesale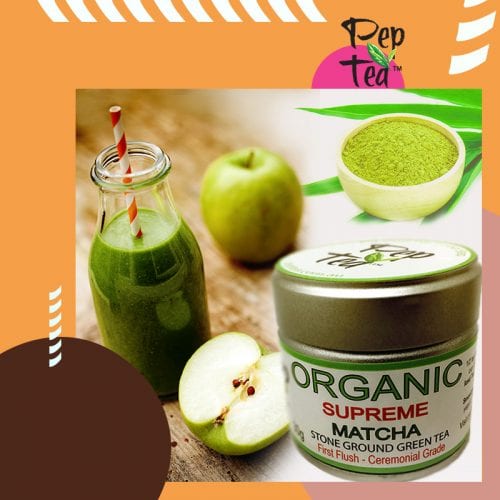 Matcha is a type of green tea which is grown in the famous tea plantations of Japan and also in China. The drinking of powdered green tea leaves for heath reasons became a ceremonial tradition which was practiced in Japan. Over the centuries the tradition is still being continued in Japan whereas in China it had slowly lost some its importance until recent years. Where ceremonies were held the High grade matcha tea is made and served according to the auspicious rituals of the Japanese tea ceremony.
Pep Tea a leading brand of Kombucha and Matcha was established with the vision to bring the old tradition of Matcha tea to Australia. Besides the authentic traditional facts they also provide amazing benefits to our body.
Caffeine in Matcha
Like coffee, matcha contains caffeine, but instead of the jitters it gives you a clean high. A matcha tea provides more caffeine than black tea around the same as a cup of brewed coffee but less than the amount of an espresso, however, the tea's buzz is much more energising and longer-lasting
It depends on how strong you drink it of course but on average Matcha tea contains on average around 70mg of caffeine for an 8 ounce cup. Whereas black tea contains, on average, around 55 mg of caffeine per 8 ounces, and coffee contains around 100 mg. Interestingly, green tea also contains the amino acid L-theanine.
Caffeine is usually thought to be safe in moderate amounts. Experts consider 200–300 mg of caffeine a day to be a moderate amount for adults. So a moderate dose of caffeine through drinking Matcha tea is about 3 cups per day.
Consuming Matcha tea on a daily basis increases the antioxidant compounds in our body which can protect us from heart disease, diabetes, cancer, and dementia. Whereas you should also be careful about the amount of Matcha consumption you take as overdose of caffeine can leads to side effect. To make one cup of Matcha Tea you should use 1/2 teaspoon of Matcha Powder as one cup of Matcha green tea is equivalent to 10 cups of ordinary Green Tea.  So Generally it is though that if you consume Matcha Tea on a daily basis you should probably not have more than 5 cups a day. If you keep these things in check then the Matcha Tea is capable to keep you energized throughout the day and give you great health benefits.
Order high-grade Matcha powder wholesale from our online store. Pep Tea is a trademarked brand of Opera Foods who deliver products overnight to most postcodes in Australia.