Category:
Kombucha Tea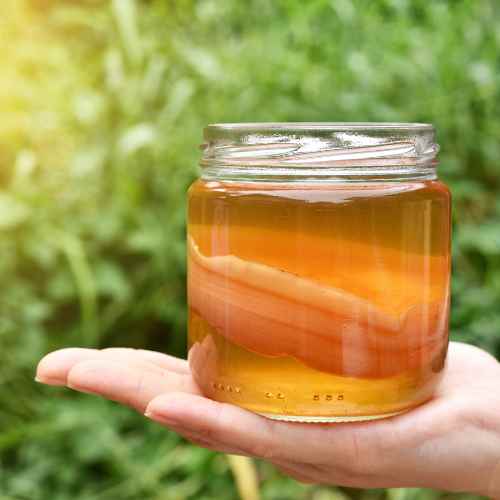 In case you missed the memo, the benefits of kombucha have been a talking point for quite a while now. From nurturing gut health with its probiotics to aiding the body's natural detoxification process, it has emerged as a potent player in the world of functional beverages. In this article, we will look into the fascinating world of kombucha, its brewing process, and the various ways it can contribute to your health and wellness.
Where does Kombucha come from?
Kombucha originated around 2,000 years ago in Northeast China (formerly known as Manchuria). A fermented tea drink, it was highly valued for its detoxifying and energizing properties. It was then traded along the Silk Road and eventually found its way to Russia and Eastern Europe. Over time, it gained popularity in the West, and by the late 20th century, kombucha had firmly established itself as a globally loved health beverage.
Despite its seemingly recent surge in popularity, the roots of kombucha run deep, entwined with ancient cultures and age-old traditions of health and wellness.
How is Kombucha made?
Kombucha is made through a fermentation process that starts with a sweetened tea base. The magic happens when a Symbiotic Culture Of Bacteria and Yeast (SCOBY) is introduced to this sugary tea mix. This SCOBY, often referred to as the "mother" or "mushroom," begins to feed on the sugar, initiating the fermentation process. Over a period of about 1-3 weeks, the brew is transformed into a fizzy, slightly sour, and refreshing beverage packed with probiotics, enzymes, and beneficial acids.
The specific flavour profile of kombucha can vary greatly based on factors such as the type of tea used, the duration of fermentation, and any additional flavourings added post-fermentation, such as fruits or herbs.
The Health Benefits of Kombucha
Thanks to its unique brewing process, kombucha is not just any ordinary tea. Kombucha health benefits have been celebrated for centuries and it is often touted for its ability to support a range of wellness goals – from boosting gut health to promoting detoxification and heart health.
Gut health and kombucha
Perhaps the best-known benefit of kombucha is its role in promoting a healthy gut. But why is it so good for our digestive health?
The role of probiotics in gut health
Probiotics, often referred to as "good bacteria," play a vital role in maintaining gut health. Our gut is home to trillions of microorganisms, including various bacteria types, collectively known as the gut microbiome. When this microbiota is balanced, it aids digestion, nutrient absorption, and immune function. Probiotics contribute to this balance by inhibiting harmful bacteria's growth, boosting the immune system, and helping to maintain the gut's protective barrier. They can also produce substances like short-chain fatty acids, which provide nourishment for the gut lining.
How kombucha nurtures digestive health
Kombucha directly nurtures gut health through its rich composition of probiotics and acids produced during the fermentation process. These probiotics, along with acetic, gluconic, and lactic acids, can help restore the balance of the gut microbiota. The probiotics in kombucha, specifically Saccharomyces and Brettanomyces, are known to combat harmful bacteria in the gut, fostering an environment conducive to the growth of beneficial bacteria.
Additionally, the acids in kombucha can aid in maintaining an optimal pH level in the gut, further promoting digestive health by inhibiting the growth of undesirable bacteria and yeasts. Moreover, kombucha is believed to have a prebiotic effect, providing nourishment for beneficial gut bacteria and stimulating their growth.
By introducing and nourishing the beneficial bacteria in our gut, kombucha can play a vital role in maintaining and improving digestive health.
Kombucha as a detoxifying agent
Kombucha is also known as a powerful detoxifying agent, binding to the toxins present in the body and aiding in their expulsion, thus promoting a healthier liver and overall well-being.
Understanding detoxification
Detoxification is the biological process of eliminating toxins from the body. These toxins can be anything from harmful chemicals we intake through air, food, and water, to natural waste products produced by our bodily functions. The process involves several key organs, primarily the liver, which plays a central role in metabolizing substances to be removed. Toxins are processed for elimination and then excreted through channels such as sweat, urine, and faeces. The kidneys, lungs, and even skin also play crucial roles in this detoxification process.
Regular detoxification can support overall health, improving organ function, boosting energy levels, and supporting the immune system. Drinking kombucha, with its beneficial natural acids and antioxidants, is said to enhance this vital process.
The role of kombucha in the detoxification process
Kombucha plays a crucial role in the detoxification process due to its high content of glucuronic acid, a natural detoxifier. This acid binds to toxins entering the liver and converts them into soluble compounds that can be easily excreted through the kidneys.
By aiding in the efficient removal of harmful substances, kombucha helps to alleviate the burden on the liver and kidneys, resulting in enhanced overall health.
Other health benefits of kombucha
In addition to its detoxifying properties and its positive effects on digestive health, kombucha may offer plenty of other health benefits. The drink can be rich in B vitamins, known for their role in energy production and maintaining good brain health. Kombucha's antioxidant content helps combat inflammation and protect the body from the harmful effects of free radicals.
The antioxidant power of kombucha is all down to the tea it is made from, as all the benefits of tea remain. You can find out more in our article about the benefits of green tea in kombucha.
Lastly, some studies suggest that kombucha may contribute to heart health by reducing levels of "bad" LDL cholesterol while increasing "good" HDL cholesterol. However, more research is needed in this area to fully understand the extent of kombucha's health benefits.
Are there any downsides to kombucha?
Before we look at the downsides and potential side effects of kombucha, it is worth mentioning that not all kombucha is made equal. So it follows that the associated health benefits can vary widely from brand to brand, and even batch to batch. Always buy good quality kombucha and beware of high-sugar versions that may also contain artificial flavours and preservatives.
Our all-natural organic green tea kombucha is raw AND organic.
Like any food or drink, kombucha can also have potential side effects. While generally considered safe for most people, individuals with compromised immune systems or those who are pregnant or breastfeeding should exercise caution.
Kombucha is a fermented drink containing a small amount of alcohol and caffeine, which some people may need to avoid. It can also cause upset stomachs, infections, and allergic reactions in rare cases. Overconsumption may lead to acidosis, a condition characterized by excess acid in the body.
Always remember to consume kombucha in moderation and consult your healthcare provider if you have any concerns.
To recap, kombucha is a delicious drink with a unique flavour profile and a wealth of potential health benefits, that makes a refreshing alternative to sugary sodas. Just remember to prioritize quality, watch out for high-sugar versions, and most importantly, consume in moderation.
Have you tried our range of naturally flavoured raw organic kombucha tea?
---
This article was reproduced on this site with permission from operafoods.com.au the "Organic Kombucha Distributors".
See original article:- From Gut Health to Detox: The Benefits of Kombucha