buy kombucha in bulk
now browsing by tag
Organic kombucha tea Ginger by Pep Tea is a high standard Australian manufactured iced green tea drink that is brewed as well as bottled in the Hunter Valley of NSW. Pep Tea is considered as the highest quality brands in Australia. The kombucha teas of Pep Tea are; organic, raw as well as shelf-stable and this is why it needs no refrigeration until it is opened.
Kombucha is basically a symbiotic culture of yeast as well as bacteria. Kombucha was first brewed in 221 BC in China. Modern science has claimed several health benefits in respect of drinking this amazing tea.  The mushroom or mother skoby is quite similar to a pancake float on the top of organic kombucha tea. The brew is transformed into beneficial enzymes, antioxidants, probiotics, minerals as well as organic acids. If this drink is consumed regularly, it helps to develop your body's immune system. So Good to help fight off illness.
Organic kombucha tea ginger is sugar-free, gluten-free, low calorie, low carbs, low GI and vegan friendly. It contains no artificial colors, sweeteners or preservatives.
For more information visit our site. Buy organic kombucha tea ginger online in bulk at Opera Foods. Get online discounts on this product.
Sugar-free organic kombucha, Apple Pomegranate flavour is a product of a Pep Tea brand. It is free from sugar, gluten, GMO, caffeine, lactose, fat, and other preservatives. Sugar-free organic kombucha Apple Pomegranate is low in calorie, carbs, GI and it is quite vegan-friendly. It is considered as one of the Australia's highest grade of organic kombucha or iced green tea. Pep Tea brands Kombucha is brewed and bottled in the hunter valley of Australia.
Our Sugar-free organic kombucha in Apple Pomegranate is always a raw, live, organic, as well as a shelf table product made with a lot of science. That is why it needs no refrigeration till opened. The flavor of the this kombucha tea tea is Apple and Pomegranate.
Organic kombucha tea is regarded as a symbiotic culture of yeasts as well as beneficial bacteria. It is documented as a health drink in 221 BC in China. Sugar-free organic kombucha is an ideal drink for kids and all types of ages.
It is rich in probiotics, antioxidants, minerals, organic acids and many more. If this magnificent cocktail is used regularly will aid to stable an individual's gut flora, help in liver function that may assist an individual's body to remove respective toxins as well as increase an immune system of an individual.
Pep Tea is among the most popular Kombucha brands in Australia. Buy Real live raw gut health fermented tea at Harris Farm Markets.
Or order your favorite kombucha drink from our Online Store for the best Kombucha brands, the taste, and quality of ours is undeniable.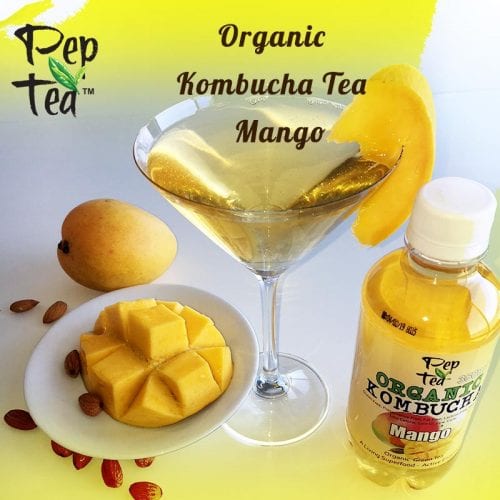 Organic kombucha tea is a product of Pep Tea that is originated in Australia. It is considered as the highest quality green tea in Australia. Organic kombucha tea mango is rich in probiotics, antioxidants, minerals as well as organic acids. It can be available in every shop in Australia; moreover, people can buy it in-store or online from Harris Farm Markets or from Pep Tea's parent company Opera Foods. At present, the popularity of the respective product has increased considerably across the globe.
Organic kombucha tea mango can offer all the benefits of tea as well as Kombucha probiotics. As organic kombucha tea mango flavour contains tea polyphenols as well as acetic acid that helps improve gut health from the right bacteria. The organic kombucha health benefits include reducing heart disease, diabetes, blood sugar, prevention of cancer and many more.
Pep Tea is one of the leading Kombucha brands in Australia.
Kombucha benefits have been discovered by the researchers as the link between healthy bacteria in the digestive system and how it strengthens the immune system of our body. The real, organic, raw Australian Kombucha is of the highest quality which is found in Australia. Pep Tea is a brand which promotes healthy organic tea drinks like Kombucha and Matcha. We have 4 different great award-winning flavours of Kombucha. These drinks are brewed and bottled in the beautiful region of Hunter Valley NSW.
All our drinks are filled with real organic Kombucha antioxidants which will fix your gut health and also give you a delight of a fruity Kombucha cocktail. Our drinks need not be refrigerated until it is opened like other Kombucha drinks. We specialize in sugar-free, fat-free, Vegan-friendly and Gluten-free drinks.
Pep Tea brand Kombucha drinks are available at a very affordable price, hence there is no need to provide your kids with high sugar soft drinks and risk their gut health.
Order Kombucha drinks Online or buy from your local Harris Farm Market store.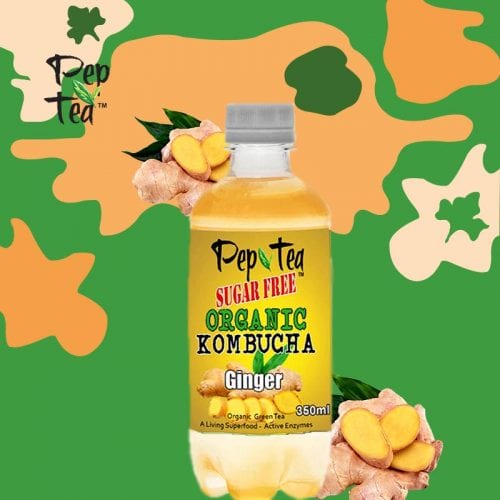 Kombucha is also known as "Mushroom Tea" or the "Elixir of health" has been there for more than thousands of years. It is a fermented tea beverage where the tea is combined together with sugar, bacteria, and yeast to begin the fermentation process. The healthy bacteria Kombucha scoby which is added during the process absorbs essential nutrients and helps our body to fight sickness. Kombucha is rich in antioxidants and probiotics which benefit the body, brain, and gut.
Peptea has specialized in being the go-to Kombucha brand in Australia. All our Kombucha drinks are sugar-free because during the process sugar is converted and the finished product is completely sugar-free. Our products have a low amount of calorie, carbohydrates, and GI. They are vegan-friendly, free from gluten and caffeine and do not need any artificial preservatives. There are different flavors of Kombucha drinks available with us to check out our online store for further details.
Buy Peptea organic Lime & Ginger Kombucha from our store. You can also buy a box of 12 combined Kombucha drinks of a different flavor from our parent wholesale Kombucha brand, Opera Foods.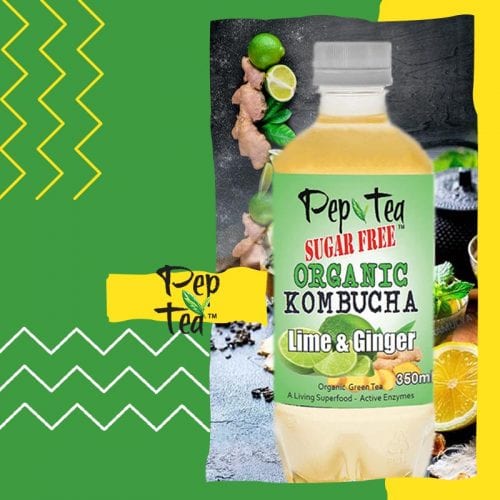 Pep Tea is an Australian kombucha brand which offers where to buy organic kombucha in Australia. The brand offers Australian organic Kombucha and organic Japanese Matcha tea powder. All our Kombucha drinks are raw and organic they are loaded with real Kombucha antioxidants and taste great.
The Lime and Ginger Kombucha drink of Pep Tea brand are completely free from Caffeine, Lactose and fat. These drinks are brewed and bottled in the Hunter Valley of NSW. The Buy Lime and Ginger Kombucha drink is a superfood drink which contains active enzymes. They are low in calorie, contain low carbohydrates and are vegan-friendly.
Order a complete box of 12 Lime and Ginger Kombucha drink or a mixed pack which has 4 flavors mixed in it from our wholesale food suppliers Opera Foods.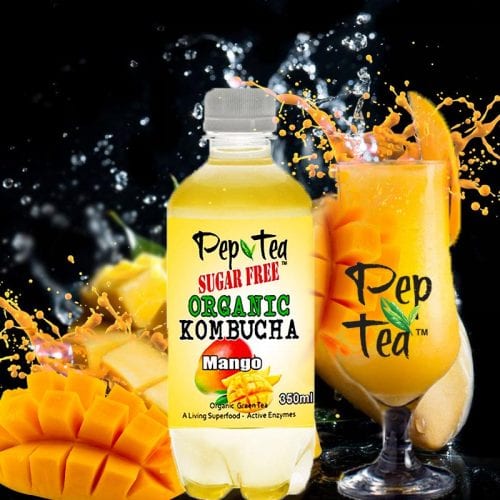 Kombucha is loaded with probiotics which are essential for our body. Drinking Kombucha helps us in managing diabetes, protecting the liver and in maintaining a good healthy heart rate. Peptea has found a way to retain the goodness of Kombucha by adding flavors of natural organic fruit and vegetable flavorings.  Kombucha was first used over 2240 years ago but over the ages, it became known as the "Miracle Elixir of health" because of its amazing health benefits.
Our Peptea brand Kombucha is grown in clean bacteria controlled room with a tested Kombucha scoby. Our Pep Tea brand Kombucha is fermented with beneficial yeast that helps re-populates the gut. The standout feature of our brand is we use the right bacteria in the correct scientific balance, all our Kombucha drinks are expertly tested before it is sold in the market or our store. Kombucha contains Vitamin B12 which is very vital for the body to remain in a good mental state. A Kombucha drink relives your body from the stress and pressure of your everyday hectic life.
Pep Tea is a famous Kombucha brands and a registered brand label of Opera Foods.
Be relieved of your stress and boost your mental health with a fruity Kombucha drink from Pep Tea.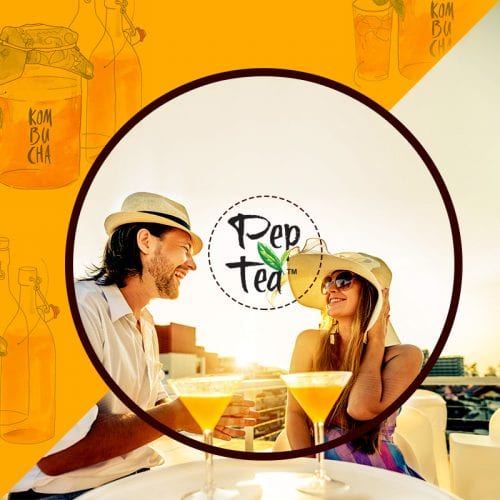 Kombucha is a health drink which is made from the natural fermentation of Green tea. Pep Tea brand organic kombucha drinks are loaded with real and organic green tea powder, fermented and brewed. These kombucha drinks are of the highest quality and purely made in Australia. They are very rich in amino acids, vitamin B and antioxidants. Some of the Kombucha health benefits are they are low in calories, fat-free, Lactose-free and Vegan-friendly.
There are four different flavors of Kombucha available in our online store. The Flavors are Mango, Ginger, Lime & Ginger, and Apple & Pomegranate. If you are drinking kombucha for its health benefits you should have the PepTea labeled kombucha drinks which are consistently good with no side effects and zero sugar.
You can order Organic Kombucha Tea of 350ml sugar-free drinks which contains a mixed box of 12 drinks of Mango, Ginger, Lime & Ginger and Apple & Pomegranate. Buy Kombucha In Bulk Online Direct, Organic, Sugar Free and in 4 great flavours
You can also buy all 4  Kombucha flavours from Pep Tea at Harris Farm Markets
Pep Tea's effervescent Kombucha is organic and naturally flavored so they make perfect healthy non-alcoholic fruity cocktails, that are really good for you.  

So make your Cocktail with an effervescent Kombucha from Pep Tea Australia.

Apple Pomegranate is a great fruity flavor for red cocktails.

If you prefer an alcoholic version like a Moscow Mule you will find our kombucha is a perfect drinks mixer.
Pep Tea are pleased to announce that our four popular kombucha flavors are about to go Sugar Free (Pep Tea – Sugar Free). Actually the head brewer has confirmed now that for 6 months in a row our kombucha flavours have been independently testing Zero Sugar. So our label is actually out of date as the product is Sugar free.
Our labels currently say that we have a meager 2.7% sugar however the reality is its actually zero sugar. It will take us a few days to get our labels re-designed and reprinted. However we thought our regular users would be glad to know in advance that their are getting a sugar free product.
Pep Tea – "Put some Pep in your step"
Forget those other vinegar tasting kombucha that feel like medicine. Properly brewed Kombucha converts all sugars to amino acids and the sparkling effervescent bubbles helps, so you have a tasty satisfying flavored kombucha without the need for a sugar content.  You can buy kombucha in bulk online that is tasty and sugar free.