Tag:
buy kombucha in bulk online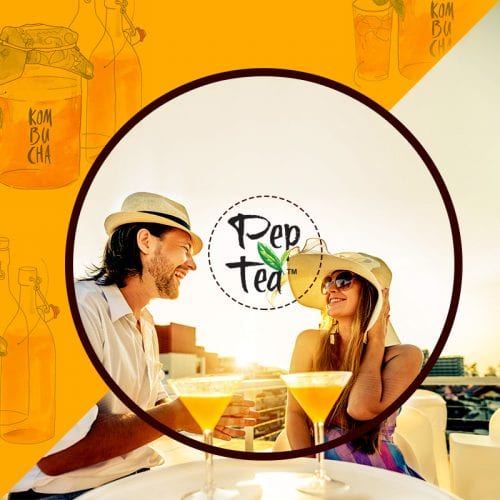 Kombucha is a health drink which is made from the natural fermentation of Green tea. Pep Tea brand organic kombucha drinks are loaded with real and organic green tea powder, fermented and brewed. These kombucha drinks are of the highest quality and purely made in Australia. They are very rich in amino acids, vitamin B and antioxidants. Some of the Kombucha health benefits are they are low in calories, fat-free, Lactose-free and Vegan-friendly.
There are four different flavors of Kombucha available in our online store. The Flavors are Mango, Ginger, Lime & Ginger, and Apple & Pomegranate. If you are drinking kombucha for its health benefits you should have the PepTea labeled kombucha drinks which are consistently good with no side effects and zero sugar.
You can order Organic Kombucha Tea of 350ml sugar-free drinks which contains a mixed box of 12 drinks of Mango, Ginger, Lime & Ginger and Apple & Pomegranate. Buy Kombucha In Bulk Online Direct, Organic, Sugar Free and in 4 great flavours
You can also buy all 4  Kombucha flavours from Pep Tea at Harris Farm Markets
Harris Farm Markets have moved their Newcastle store from Glendale to a huge new multi faceted market place in Darby St, Cooke Hill, an inner Newcastle NSW suburb.
The new complex is a breath of fresh air and includes a cafe and florist/nursery, plus a fish market, a butchery, a bakery, a milk bar, extensive deli shelves with a massive cheese selection and wonderful decor though out the old warehouse conversion.
Please read the full review at Opera Foods Gourmet and Organic news food blog. Through Our parent company Opera Foods, we are a long term supplier to Harris Farm Markets and proud to be associated. We are also glad to see the extent to which Harris Farm Markets deliberately support other local producers and grocery manufacturers instead of oppressing them like the major supermarkets do. If you dont have a Harris Farm Markets store near you you can buy kombucha in bulk online as well as other Opera brands stocked by them.
#harrisfarmmarkets #peptea #operafoods #harrisfarmcookshill #harrisfarmnewcastle #organickombucha #kombucha