Tag:
sugar free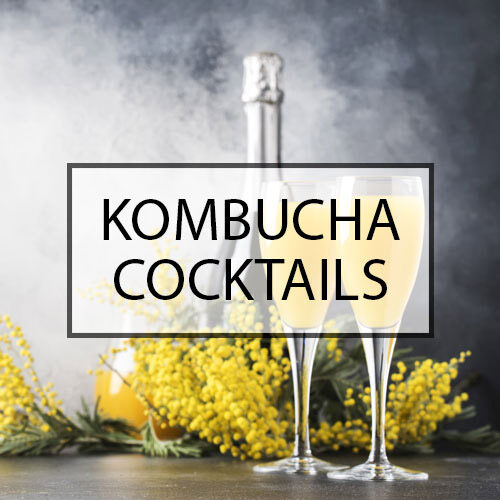 Not only is kombucha the ideal alternative to fizzy sodas (which can be sugar-laden, chemical-laden, or both) but it makes the perfect mixer for alcoholic drinks. Serve it straight up with a shot or two of something simple or get creative with an endless array of kombucha cocktails.
Adding alcohol to kombucha
As a fermented product all kombucha can contain trace amounts of alcohol. Pep Tea does not make it, but Hard kombucha, whether store bought or homemade, is brewed so that the alcohol content is higher (up to 7.6%). So it can be enjoyed in a way similar to beer, wine or cider. Hard kombucha is sold as an alcoholic drink, and will always be labelled as such.
Another way to add alcohol to normal kombucha is to use it as a mixer, in place of soft drinks. The sharp, yet slightly sweet, tangy flavours and fermented fizz, make it the ideal companion to alcohol. Added to gin in place of tonic, or to wine for a cooling spritzer, the flavours of kombucha are really suited for purpose.
When it comes to getting creative with mixology, kombucha cocktails open up new avenues of possibility.
Kombucha cocktail recipes
Lime and ginger kombucha mojito
4 x mint leaves
1 measure fresh lime juice
1 measure white rum
3 measures lime and ginger kombucha
Add the mint leaves to the glass with the lime juice and a teaspoon of sugar if you wish. Press the mint leaves into the juice to release the flavours (a process known as muddling).
Add ice cubes.
Pour over the rum and then the kombucha.
Add more kombucha if you want a longer drink.
Lemon balm leaves make a nice alternative to mint.
Apple and pomegranate booch sangria
1 bottle light red wine
2 bottles apple and pomegranate kombucha
1/2 cup brandy
1/4 cup honey
2 apples, cut into chunks
2 pomegranates, cut into chunks
1 orange, cut into chunks
Stir all of the ingredients together in a large jug or punch bowl.
Stand for at least 4 hours before serving.
Ginger kombucha hot toddy
1 measure whisky
3/4 cup ginger kombucha
2 tsp honey
Juice of 1/2 lemon
1 cinnamon stick
1 star anise
Heat everything together in a pan until just before boiling point.
Tip everything into a glass and sip as soon as it is bearable.
Mango mimosa kombucha cocktail
sparkling wine
mango kombucha
fresh mango juice
Combine equal measure of all ingredients.
Serve chilled.
All of our raw organic kombucha is sugar free and comes in a range of fabulous flavours. You can also find more gourmet groceries at our online wholesale superstore.