Tag:
Tea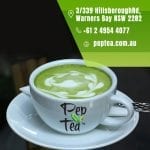 Matcha tea is also a type of green tea in which the young tea leaves are ground down into a bright green powder. In a normal green tea, you are just getting a part of the nutrients as the rest are thrown away but with Matcha tea, you're drinking the whole tea leaves.
You can drink Matcha tea with hot water as well as cold water and ice because with Matcha tea you can experience the same benefits in both the ways.
You can make a Hot Matcha Tea when you are drinking tea with a casual breakfast. The combination to make your perfect Matcha tea, you should keep the ratio as one teaspoon of our Peptea brand organic Matcha powder and six ounces of water. Boil the water first and then let it cool down a bit. Take one teaspoon of powder and mix it with two ounces of water first, then add the rest of the water into it. You can also add sweeteners to taste and be sure to stir the cup once the powder settles down at the bottom.
If you feel like drinking tea at any time of the day you can go for the Iced Matcha Tea. It is easier to make than the Hot Matcha Tea. The combination to make your perfect Iced Matcha tea, take one-half teaspoon of our Pep tea brand organic Matcha powder and mix it with few ounces of water to create a smooth paste. Add about 10-12 ounces of water, and sugar. Keep it in direct sunlight for about 15-20 minutes and add Ice and sweetener to enjoy your delicious cup of Iced Matcha Tea.