Tag:
kombucha
It has all the health credentials of tea, plus the gut boosting benefits of probiotics, but exactly what is kombucha good for?
The healthiest kombucha is made with green tea, for a whole host of added benefits. In fact, although kombucha is best known for its probiotic benefits, it is the properties of green tea that make it particularly beneficial to health.
Kombucha is good for anti-ageing
The antioxidants in green tea have powerful anti ageing properties. As well as contributing to the maintenance of healthy youthful skin as seen below, it contains protective polyphenols of the type EGCG. This is a potent anti-inflammatory that may help protect against cognitive decline.
Kombucha and healthy skin
Alongside the anti-inflammatory EGCG, green tea contains several compounds that directly support skin health. Quercetin and kaempferol (also anti-inflammatory antioxidants) help to soothe sensitive skin. The green pigment chlorophyll helps to flush out harmful toxins that can contribute to tired looking skin.
Kombucha is good for the brain
L-theanine, a component of tea (not just green) has been shown to have anti-anxiety properties and can also aid relaxation. Caffeine, especially in conjunction with l-theanine, can help improve brain function too, for a clearer, sharper mind.
And then of course there is the power of fermented foods and those little guys known as probiotics. Otherwise known as beneficial bacteria, these provide healthy bacteria for your gut.
There are many different strains of bacteria that can act as probiotics within the body, but the ones we are most interested in when in comes to kombucha are the lactic-acid bacteria it is shown to contain.
Kombucha for gut health
But what does good gut health look like? We are only just scratching the surface of the role the gut plays in our overall health and, over time, restoring your gut microbiome can be totally transformative. Yet there are two major benefits that people report from improving their gut flora.
Kombucha for energy
The first is improved energy. When your gut begins to function as it should you are likely to feel simply more energised. If you were suffering from a lack of energy or motivation then it is like a fog has been lifted.
Kombucha is good for your digestion
Many of us suffer from digestive issues. For some, it causes discomfort and even embarrassment. For others it may not even be noticeable because things have always been that way. A healthy digestion is a different beast entirely. And once things begin to function as they should, many other benefits follow.
Find out what kombucha and matcha have in common…
Our organic kombucha is available to buy online now. Made with green tea, it has all those antioxidant benefits we talked about.
---
This article was reproduced on this site with permission from operafoods.com.au the "Kombucha Manufacturers".
See original article:- What is kombucha good for?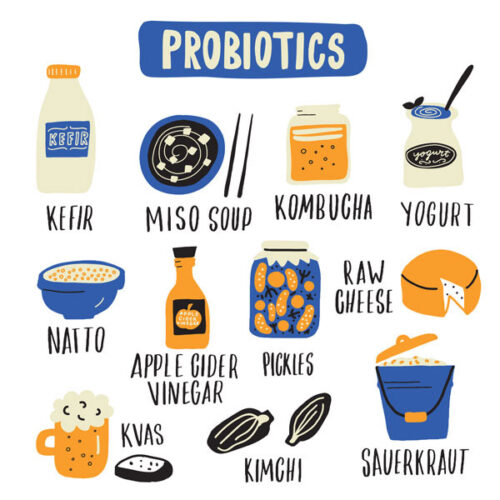 We have all surely heard by now that modern life can be damaging to our gut health, and that the key to restoration could be beneficial bacteria. But how do kombucha and yogurt measure up in terms of probiotics?
Bacteria and gut health
When we talk about gut health we are usually referring to the gut microbiome. This is the colony of bacteria that lives in our intestine and supports the body in a number of ways. Made up of hundreds of different strains of bacteria, the delicate balance can be disrupted and we end up with more bad bacteria than good. Clearly this can impact our health in many ways. Not always obvious as illness or disease, an imbalance in the gut flora can show up in subtle ways such as lack of energy or digestive issues. Stress, too much sugar or processed foods, antibiotics, and chemical preservatives, can all disrupt the gut microbiome.
Kombucha and yogurt
Kombucha and yogurt can both introduce more beneficial bacteria to the body. This helps to rebuild the flora and maintain gut health, leading to improved digestion and a healthy immune system.
Kombucha is made from green or black tea. Fermented with a SCOBY, a culture of bacteria and yeasts, the resulting drink retains many of the beneficial bacteria. You can find out here why the tea in kombucha is so important.
Yogurt is fermented milk. It is traditionally a dairy product, yet vegan yogurt is growing in popularity. Kefir is another fermented milk product. We explore the kefir vs kombucha debate.
The obvious difference is that yoghurt is a food and kombucha is a drink. They both contain different bacteria so there is no reason not to enjoy both. The goal of eating fermented foods is to include a wide a range of beneficial bacteria, plus any extra nutritional benefits of the products themselves. Such as antioxidant green tea in kombucha. Or the calcium in cows milk.
If you are new to fermented foods, just don't overdo it. Introduce new foods slowly and listen to what your body is telling you.
Kombucha yogurt
You can use kombucha to make your own yogurt. Made in much the same way as standard yogurt, kombucha yogurt gives you the best of both worlds.
Although you can use the SCOBY to ferment yogurt, it is also possible to use the kombucha itself. Use full fat dairy milk and a high quality organic kombucha. You can even play about with different flavours and see which you like best. Try our mango kombucha for a tropical fruity finish.
It is best to use jars with lids, like Mason jars for your kombucha yogurt. It should be ready in 24 hours, so no need to burp the jars.
For 1 litre milk, use 200ml kombucha.
Scald the milk to about 85C – you can guesstimate it, just do not let it boil. Remove from the heat and cool to about 45C. Again, feel free to guesstimate. It should be hot, but not too hot that you can't keep a (clean) finger in it. A bit warmer than body temperature. Stir in the kombucha and leave in a warm place for at least 24 hrs.
Coconut yogurt made with kombucha
You can also make coconut yogurt with kombucha, replacing the dairy milk with a blend of coconut milk (the canned stuff) and coconut cream (to make it thicker).
Fermentation is more about trial and error than standardised recipes. Some attempts are more successful than others. If your kombucha yogurt is not as thick as you would like it, then you can still use it in baking or in smoothies.
Kombucha yogurt smoothie
Making a kombucha yogurt smoothie is an ideal way to combine the benefits of kombucha and yogurt, and gives a delightfully tangy flavour. You can use any probiotic yogurt you like. We use fruit powders for an easy nutrient boost, with a frozen banana for added texture.
1 banana, frozen in chunks
2 tsp Australian berry powder
1 cup yogurt
200ml apple pomegranate kombucha
Blitz together in a blender and serve.
TIP – to make frozen banana easier to blend, remove it from the freezer and allow to thaw for 10 minutes before using. It makes a lovely creamy smoothie that way.
Our organic kombucha comes in a range of delicious flavours. You can also buy kombucha in bulk from our online store.
---
This article was reproduced on this site only with permission from our parent co. operafoods.com.au the "Gourmet Online Wholesale Grocer". See the original article here:- Kombucha and Yogurt – Both Beneficial Bacteria.
Pep Tea brand is a subsidiary of Opera Foods Pty Ltd.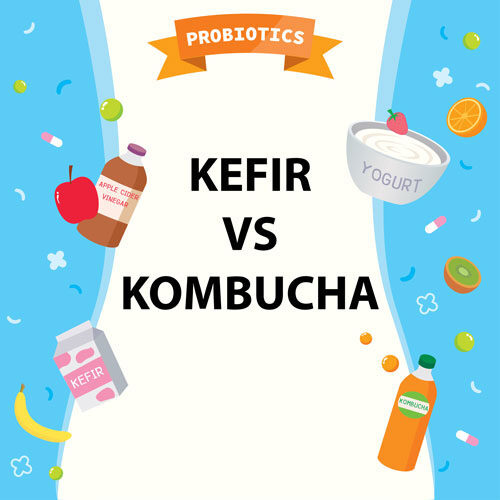 Kefir and kombucha are both traditional fermented drinks. Said to have some impressive health benefits, they are both enjoying mainstream popularity right now. Kefir is dairy based, although non-dairy versions do exist, whilst kombucha is made from sweet black or green tea.
But in the battle of kefir vs kombucha, which one is a winner for you?
What is the difference between kefir and kombucha?
Kombucha is low calorie and contains no protein, fat or fibre. Analysis has shown some kombucha to contain vitamins A, B and C plus minerals zinc, copper, iron and manganese. Dairy kefir is much higher in calories yet has a full range of nutrients with fat, protein, carbs and fibre. It also contains vitamins A and D, plus calcium and sodium.
Although kombucha and kefir are both fermented drinks, they are very different. Not only do they look and taste different, the starter and the fermentation process are different too. Kombucha is fermented using a scoby, which is a symbiotic colony of bacteria and yeast, held together by a network of sugars. It is added to sweetened tea and the mixture fermented for up to 30 days. Kefir grains are also a colony of bacteria and yeast held in sugars, but they form small translucent 'grains' rather than the mushroom like mass of the scoby. Added to milk, fruit juice, water or coconut water, they are only cultured for 1 or 2 days.
Kombucha is thin, like a soft drink, with a vinegar like smell. It tastes slightly sweet and tangy, and is fizzy. The flavour varies according to fermentation time. Also, the tea used, and any additional flavours.
Kefir is thicker, and tastes like the cultured milk that it is. Think lactic acid flavour like creme fraiche, or a good brioche. It can be flavoured with additives such as fruit, flavour extracts, or honey. The longer the fermentation, the more pronounced the flavour.
Both of these fermented drinks can undergo a second fermentation to develop flavour.
There are two types of kefir – dairy/milk kefir and water kefir. Milk kefir can be dairy free or vegan, made with coconut milk or nut milks.
What is water kefir?
As the name suggests, water kefir is made from sweetened water. It is also made from coconut water or fruit juice. Made using a different starter culture that contains no milk, water kefir can be overly sweet and not particularly pleasant to taste. For this reason it is usually flavoured with additional fruit, sweeteners or herbs. It does, however, have less of a fermentation flavour than dairy kefir or kombucha.
Kombucha contains caffeine (from the tea) and a negligible percentage of alcohol. Watch out for added sugar in many commercial products. But not ours! We stock only sugar-free kombucha.
Kefir vs kombucha probiotics
The probiotic content of kefir and kombucha are slightly different. Both are rich in probiotics but kefir contains lactic acid bacteria. Kombucha contains lactic acid and acetic acid bacteria. With more lactic acid bacteria, kefir acts like a probiotic supplement. Kombucha, on the other hand, is more of a digestive aid. Between them they contain a wide variety of beneficial bacteria.
Both kefir and kombucha have shown anti-microbial and antioxidant properties.
Kefir is anti-inflammatory. It may lower cholesterol as well as stimulate the immune system. Kombucha may promote fat loss, improve blood sugar control, and offer protection for the liver. Both should be introduced to the diet slowly to counteract any negative effects such as bloating or intestinal discomfort.
Both kefir and kombucha are understood to have beneficial effects on overall gut health and diversification of the gut microbiome.
Is kefir or kombucha better?
Whether you choose kefir or kombucha is largely a matter of preference. Eating and drinking a range of fermented foods can offer greater diversity in beneficial bacteria so try to include as many as you can. Sourdough bread, kimchi, sauerkraut, yoghurt and pickles are all good.
Can you drink kefir and kombucha together?
Whilst people do actually mix kefir and kombucha together, you can simply include both in your diet and enjoy whichever takes your fancy or you tolerate best. Both are excellent for hydration too.  In the matter of kefir vs kombucha there really is no comparison as they are completely different things. A bit like comparing mayo and ketchup. Chalk and cheese.
How many of our organic kombucha flavours have you tried? Don't forget to take advantage of wholesale prices when you buy bulk food online from our one stop shop.