Tag:
kefir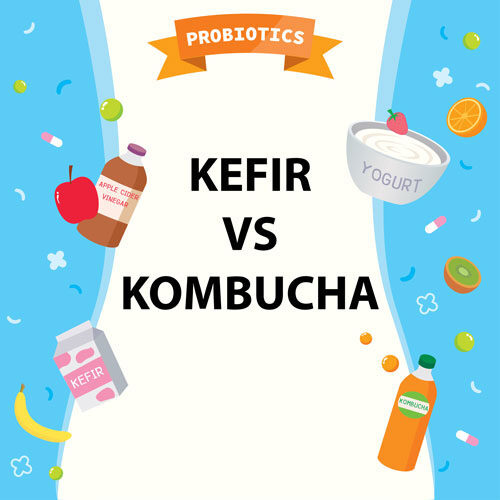 Kefir and kombucha are both traditional fermented drinks. Said to have some impressive health benefits, they are both enjoying mainstream popularity right now. Kefir is dairy based, although non-dairy versions do exist, whilst kombucha is made from sweet black or green tea.
But in the battle of kefir vs kombucha, which one is a winner for you?
What is the difference between kefir and kombucha?
Kombucha is low calorie and contains no protein, fat or fibre. Analysis has shown some kombucha to contain vitamins A, B and C plus minerals zinc, copper, iron and manganese. Dairy kefir is much higher in calories yet has a full range of nutrients with fat, protein, carbs and fibre. It also contains vitamins A and D, plus calcium and sodium.
Although kombucha and kefir are both fermented drinks, they are very different. Not only do they look and taste different, the starter and the fermentation process are different too. Kombucha is fermented using a scoby, which is a symbiotic colony of bacteria and yeast, held together by a network of sugars. It is added to sweetened tea and the mixture fermented for up to 30 days. Kefir grains are also a colony of bacteria and yeast held in sugars, but they form small translucent 'grains' rather than the mushroom like mass of the scoby. Added to milk, fruit juice, water or coconut water, they are only cultured for 1 or 2 days.
Kombucha is thin, like a soft drink, with a vinegar like smell. It tastes slightly sweet and tangy, and is fizzy. The flavour varies according to fermentation time. Also, the tea used, and any additional flavours.
Kefir is thicker, and tastes like the cultured milk that it is. Think lactic acid flavour like creme fraiche, or a good brioche. It can be flavoured with additives such as fruit, flavour extracts, or honey. The longer the fermentation, the more pronounced the flavour.
Both of these fermented drinks can undergo a second fermentation to develop flavour.
There are two types of kefir – dairy/milk kefir and water kefir. Milk kefir can be dairy free or vegan, made with coconut milk or nut milks.
What is water kefir?
As the name suggests, water kefir is made from sweetened water. It is also made from coconut water or fruit juice. Made using a different starter culture that contains no milk, water kefir can be overly sweet and not particularly pleasant to taste. For this reason it is usually flavoured with additional fruit, sweeteners or herbs. It does, however, have less of a fermentation flavour than dairy kefir or kombucha.
Kombucha contains caffeine (from the tea) and a negligible percentage of alcohol. Watch out for added sugar in many commercial products. But not ours! We stock only sugar-free kombucha.
Kefir vs kombucha probiotics
The probiotic content of kefir and kombucha are slightly different. Both are rich in probiotics but kefir contains lactic acid bacteria. Kombucha contains lactic acid and acetic acid bacteria. With more lactic acid bacteria, kefir acts like a probiotic supplement. Kombucha, on the other hand, is more of a digestive aid. Between them they contain a wide variety of beneficial bacteria.
Both kefir and kombucha have shown anti-microbial and antioxidant properties.
Kefir is anti-inflammatory. It may lower cholesterol as well as stimulate the immune system. Kombucha may promote fat loss, improve blood sugar control, and offer protection for the liver. Both should be introduced to the diet slowly to counteract any negative effects such as bloating or intestinal discomfort.
Both kefir and kombucha are understood to have beneficial effects on overall gut health and diversification of the gut microbiome.
Is kefir or kombucha better?
Whether you choose kefir or kombucha is largely a matter of preference. Eating and drinking a range of fermented foods can offer greater diversity in beneficial bacteria so try to include as many as you can. Sourdough bread, kimchi, sauerkraut, yoghurt and pickles are all good.
Can you drink kefir and kombucha together?
Whilst people do actually mix kefir and kombucha together, you can simply include both in your diet and enjoy whichever takes your fancy or you tolerate best. Both are excellent for hydration too.  In the matter of kefir vs kombucha there really is no comparison as they are completely different things. A bit like comparing mayo and ketchup. Chalk and cheese.
How many of our organic kombucha flavours have you tried? Don't forget to take advantage of wholesale prices when you buy bulk food online from our one stop shop.