Pep Tea's Australian Kombucha Reviewed on Landline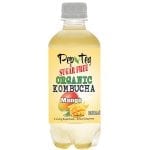 Pep Tea's Australian Kombucha Reviewed on Landline, the ABC's longstanding regional review TV program this week. The review or article, specifically features Jeff Low's purpose built Hunter Valley kombucha brewery. This brewery contract manufactures most of the major brands of Australian Kombucha including Pep Tea organic kombucha.
Authentic Kombucha that is Raw & Alive with Real Probiotics.
Landline's Kombucha review shows us around Jeff's brewery and bottling plant during the manufacture of a run of the Pep Tea organic Mango flavor. The Landline interview with kombucha guru Jeff Low highlights the things that make the products he brews authentic kombucha that is a raw live product. Products brimming with real fermented tea kombucha probiotics that give the gut health benefits that kombucha drinkers are looking for.
Raw Not Pasturised
A real kombucha offers raw live healthy bacteria for gut health and is never Pasteurised.
Certified Organic & Shelf Stable
Jeff also emphasized that his products were carefully made only with natural and organic ingredients. Are certified by the Australian Certified Organic organization. Are scientifically perfected and filtered to make them low sediment and Shelf Stable so that they need no refrigeration until opened. Shelf stable is an important consideration for retailers. Shelf Stable means products like Pep Tea Organic Kombucha only takes up 4 lines (4 flavors) of valuable display fridge space. This is because the rest of the carton can go in a storeroom, not needing refrigeration.
Quite simply Pep Tea's Organic kombuchas in the four most popular flavors, are the best a kombucha can be.
Here is the story of Australian Kombucha Reviewed on Landline.
Australian Kombucha Reviewed on Landline:-

Australian Organic Beverages – ABC Landline
Call for Regulation of the Kombucha production industry.
Along with real kombucha manufacturer Jeff Low, Pep Tea would like to call for regulation of the industry. Mainly to stop other players from offering products that are not true kombucha products or have probiotics added to them after the fact and so are not a true kombucha product. Another clear example is where a law suit was filed in the US against KeVita, owned by PepsiCo who were pasteurizing the product. Pasteurization is a process by which bacteria in food is killed by applying heat. Whereas the desirable health benefit of a Kombucha is the healthy bacteria enhanced through the fermentation process. Other cases have been brought in the USA where the low sugar content of kombucha products have been exaggerated.
NB: Pep Tea is a division of Opera Foods. Retailers and distributors seeking Organic Shelf Stable kombucha are invited to register for Wholesale access on Opera Foods website. Opera Foods offers gourmet and organic brands that are not offered in the major supermarkets to discerning food retailers and distributors around Australia.
Australian Kombucha Reviewed on Landline. Use an authentic Kombucha, Pep Tea organic Kombucha. Read more about Kombucha history here.