Premium 1kg – Organic Matcha Green Tea – Catering Pack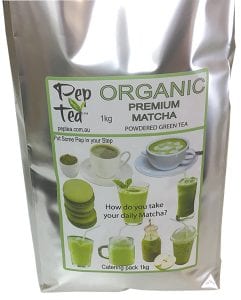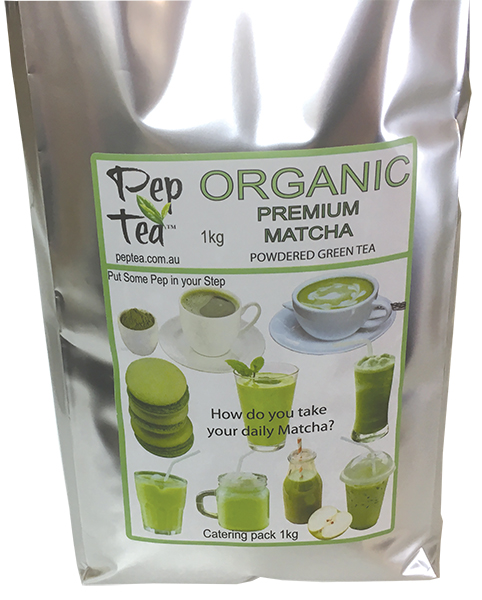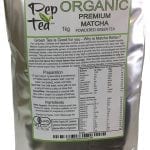 Premium 1kg – Organic Matcha Green Tea from Pep Tea is a special catering pack of culinary grade organic Matcha Tea.
All Matcha tea powders from Pep Tea are the real thing, 100% imported from Japan and all certified organic. Pep Tea's Premium grade organic matcha tea, is a special culinary grade blend for cooking, is made from the autumn crops and certified organically grown by the Japanese Ministry of Agriculture.  It is a consistent blend sourced from the famous Kagoshima, Kyoto, Mie and Aichi region tea plantations of southern Japan.
Pep Tea brand Matcha 100g and 1kg bulk packs are foil lined, re-sealable pouches that stand up with front labels that show the most popular ways people take their matcha tea, and back labels that explain the difference between matcha tea and traditional green tea, to enable best presentation in your store. The back label also shows the organic certification logo of the Japanese ministry of Agriculture
High quality Matcha green tea powder is made from the nutrient-rich young tea leaves picked from the tips of shade-grown tea plants. The leaves are ground into very fine powder. For more information about Matcha Tea see How Matcha Tea is Made.
Matcha Green Tea powder is known to be one of the most powerful natural super foods available, which is why you should enjoy the the amazing benefits of Matcha Tea by drinking a cup every day.